Carbiroid 5mg uses, dosage and information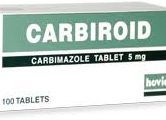 What is carbiroid?
Carbiroid is a medication containing carbimazole, a medication prescribed in treating hyperthyroidism.
What is the dosage of carbiroid?
In adults, 30 – 60 mg daily in divided doses which is gradually reduced to the smallest effective dose is recommended. In children, 2.5 – 10 mg per day is recommended and reduced according to treatment response.
How do I use carbiroid?
Carbiroid tablets are to be taken by mouth with or without food.
What are the side effects of carbiroid use?
Side effects of carbiroid include:
· Nausea
· Vomiting
· Diarrhea
· Dizziness
· Headache
· Pain in joint
· Itchy skin
· Fever
· Severe abdominal pain
· Yellowing of the eyes or skin
· Dark urine
Where can I buy carbiroid tablets?
Carbiroid tablets are available for purchase on Nigeria's largest online pharmacy drugstore.ng. You can simply click here to view this product.