Camosunate pediatric for malaria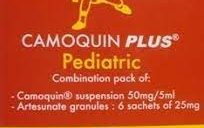 What is Camosunate Pediatric?
Camosunate pediatric is an antimalarial medication indicated in the treatment of acute uncomplicated malaria and multi-drug resistant malaria caused by plasmodium falciparum. The active ingredient of camosunate are Amodiaquine and artesunate.
What is the composition of Camosunate junior?
75 mg of amodiaquine
25 mg of artesunate
What are the side effects of Camosunate Junior?
Possible side effects of camosunate pediatric include the following:
Syncope
Spasticity
Convulsions
Involuntary movements
Nausea
Vomiting
Anorexia
Dizziness
Neutropenia
Anemia
Hemolysis
Heightened liver enzyme levels
Chills
Unusual tiredness
Pale skin
What is the dosage for Camosunate pediatric?
I tablet daily for 3 days.
Where can I buy Camosunate pediatric in Nigeria?
Camosunate pediatric is available on Nigeria's largest online pharmacy – drugstore.ng – and you can get it when you click here.